PCYC NSW continues our Stay Active Series with an easy strength training workout you can do at home with no weights or equipment, to help you build or retain muscle to stay in great shape while in lockdown.
This workout is all about tempo, time under tension, and eccentric work. Eccentric (lowering phase) is a great way to challenge yourself, to make an exercise tougher.
Muscle gain is all about creating damage to tissue, to then repair bigger and stronger.
The more time under tension you have in a motion or movement with load, the greater the stress on the muscles involved. This then creates more micro-tears, meaning more growth!
Follow through exercises A1 – A7, completing as many rounds as possible in a set time limit. Depending on experience and fitness levels, the time can be set between 15 – 60 minutes. Rest when needed, but the aim is to complete as many rounds as possible.
Start with an adequate warmup – one round of each exercise for 10 reps, no tempo A1.
5 count eccentric squat X 8 A2.
Prone Y back extension X 12 A3.
3 count eccentric push-up X 8 A4.
Glute raises 3 count hold X 8 A5.
Wall lateral raise 3 spot pause 3 count X 7 (both sides) (can also be done in a doorway if arms permit) A6.
Towel Bicep curls 3 spot pause 3 count X 7 A7. Tricep pushups X 12.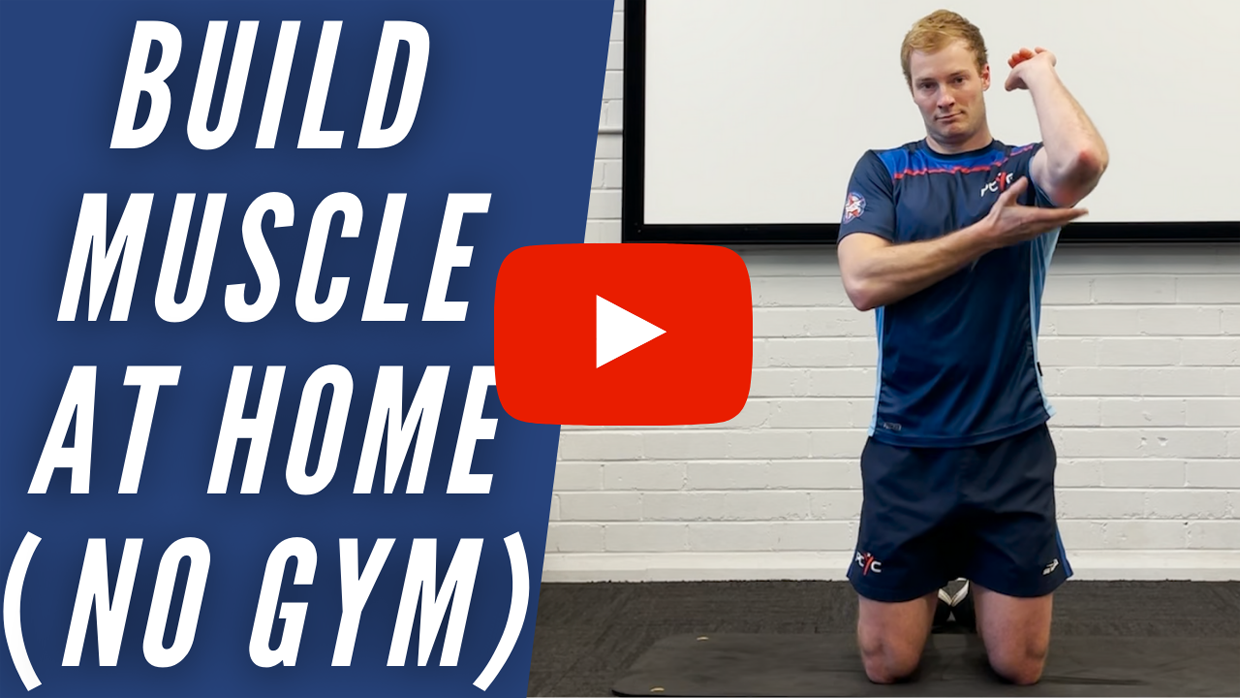 Strength training, also called weight training or resistance training, is an important part of any fitness routine. It helps make you stronger and also builds muscle endurance.
With strength training, you move your body against some type of resistance, such as:
your body weight
free weights, like dumbbells or barbells
resistance bands, also known as resistance tubing or workout bands
resistance machines, like cable machines, single-exercise machines, or multi-gym systems
Strength training is a versatile type of workout that you can do almost anywhere. While it's a popular exercise option at many gyms, you can also build a robust strength training program that you can do in the comfort and privacy of your home!
PCYC NSW is here to help you cultivate a home-based exercise routine, as a super easy and convenient way of fitting in a workout without leaving your living room.
Watch the full Stay Active Series here
Of course, when the time comes to get back into the gym, many PCYC NSW clubs have dedicated gym and fitness spaces, and are committed to offering a range of gym and fitness options that cater for all ages and skill levels.
Want some additional coaching and guidance on strength training and many other fitness techniques? Whether you're aiming to get into better shape or maintain a healthy weight, personal training sessions at PCYC NSW can help you achieve your fitness goals. Under the close guidance of our certified personal trainers, you will work on your strength, cardiovascular fitness, conditioning, and more -- boosting your overall health and helping you feel fantastic.
With personal training sessions at PCYC, you'll learn how to maintain proper form while exercising and watch your physical performance improve as you put in hard work at the gym. As a result, you'll enjoy the benefits of a healthier lifestyle and feel a boost of confidence from your self-discipline and dedication. At PCYC, you can also meet fellow gym-goers and create new friendships.
PCYC is a community-based gym, providing individuals of all ages and fitness levels the opportunity to push themselves toward their goals. In New South Wales, PCYC operates more than 37 gym & fitness facilities, including high performance and state-of-the-art equipment in some of our clubs, where community members can get active, explore their interests, and socialise with others.
Our gyms are safe, inclusive and affordable with a variety of options to suit your needs, fitness levels and budgets, and are here to give you the right balance of training and motivation. Find your local PCYC Gym and Fitness centre today to enquire about our memberships and start building on your Fitness routine. 
Read Also: