Gymnastics is for every child – it is great for co-ordination, body awareness and can be a huge benefit for children who wanting to advance their physical and social skills through fun and interactive sessions led by fully qualified and accredited coaches.
New to Gymnastics and wanting to find a local Gymnastics club? This is the perfect time to give it a try! PCYC NSW offers a huge range of Gymnastics options from Kindygym to Tumbling, Trampolining to Free G/ Parkour, Performance Gymnastics to GymStar. See below for our full range of programs and find your local PCYC Gymnastics club today to see what's on offer near you.
Enquire below about PCYC Gymnastics near you.
Kindergym (1.5-3yrs)
This parent/adult assisted class is designed to give your little one a head start in life! With a focus on learning through play, each lesson will use colours, sounds and other stimulation to help your child develop their body control and strengthen brain connections through balance, sensory stimulation, tactile experience and coordination exercises. Children will learn to roll, climb, jump and swing all while having fun and socializing with parents and other children.

Junior gym (3.5-5yrs)
Junior gym is a program suitable for preschool and kindergarten aged children, bridging the gap between Kindergym and GymStar. Junior Gym offers more structure than the Kindergym program with teaching methods and activities specifically targeted to suit the developmental and cognitive needs of this age group, whilst increasing self-confidence in an independent learning opportunity.

GymStar is a recreational program for school age children, covering the basics of gymnastics and movement in a fun and friendly environment. Children will learn the basics of apparatus such as bars, beam, floor and trampoline to assist in developing skills such as balance, coordination and strength. Each term, participants will be assessed on the skills they have learnt and move up through the GymStar levels.

The skills your child will develop through our GymStar program will be useful in many other sports and areas of life beyond gymnastics! Our GymStar program is perfect for kids who want to start their gymnastics journey as well as those who just want to have fun, stay active and learn something new!

There are 4 levels:

S – Introduction to Gymnastics Foundation Skills
T – Learning Gymnastics Foundation Skills
A – Building on Gymnastics Skills
R– Developing more complex Gymnastics Skills

Women's Artistic Gymnastics (WAG)
WAG is one of the most well-known forms of gymnastics – the kind you would commonly see in the Olympics on TV. It is a competitive sport for girls of all ages comprising of 4 apparatus – beam, bars, floor & vault. Athletes will work on skills, dance and tumbling for each of these apparatus as well as working on developing strength, flexibility and handstands.

Men's Artistic Gymnastics (MAG)
MAG is a traditional competitive program for boys, building strength and control and power. Boys will learn skills and routines on 6 apparatus – Floor, pommel horse, rings, vault, parallel bars and horizontal bar. This is a great outlet for boys of all ages to channel their energy in a constructive and disciplined way.

Rhythmic Gymnastics (RG)
Rhythmic Gymnastics is another type of gymnastics you may have seen in the Olympics, combining balance, strength and flexibility along with coordination and musicality to create entertaining and skilful routines. Gymnasts will learn to perform using a number of apparatus including; Rope, hoop, ball, clubs & ribbon.

Trampoline Gymnastics (TRP)
Does your child love to bounce and dream of flipping? Trampoline Gymnastics is for both males and females and includes amazing feats of athleticism whilst flipping and twisting through the air! Athletes start by learning safe jumping and landing techniques and progress through to more advanced skills and combinations including somersaults. Trampoline gymnastics also includes Double Mini trampoline, a fast and explosive combination of trampoline skills including a run up and landing and Power Tumbling, where athletes flip their way down a track.

Acrobatic Gymnastics (ACR)
A spectacular group sport where athletes perform incredible lifts, throws and balances on their partners hands, feet and shoulders. Gymnasts will perform choreographed routines combining dance, group skills and individual elements such as tumbling. Acrobatic gymnastics combines strength and flexibility with showmanship and teamwork to produce spectacular performances!

TeamGym (TG)
TeamGym is relatively new to Australia and is a fun and social way showcase a variety of gymnastics skills in a team environment. Teams consist of 6-12 athletes who perform 3 routines to music – floor (comprising of dance and acrobatic elements), tumbling (consisting of a series of forwards and backwards skills from rolls and cartwheels to flips), and mini tramp (jumps, turns and somersaults!). Teams are split into divisions based on skill level, catering from the very beginner to the most advanced gymnast.

FreeG / Parkour
FreeG (Freestyle Gymnastics) and Parkour programs are new and innovative programs that provide opportunities for young people to be creative in the development of new skills, whilst staying fit and active for longer. Classes include running and jumping over obstacles, as well as tricking and flipping skills. Athletes get the opportunity to run obstacle courses utilising their new skills, and can be a pathway to competitive time trials in Parkour and activities similar to Ninja Warrior.

Performance Gymnastics
Performance gymnastics is team sport, providing a group of gymnasts the opportunity to train together and create entertaining performances for spectators. Performance opportunities continue to grow, from local community events to state level competitions, corporate event opportunities and even international events and festivals.

Fitter for Life
This program is aimed at older adults (55 years+) as a gentle way of staying physically active and engaged. This program will work on maintaining or improving mobility, strength & coordination. It is a fun and social option to get moving and stay moving!
All Gymnastics bookings must hold a valid PCYC membership

Participants must be registered with Gymnastics NSW which will be processed on enrolment
Find a Gymnastics Club Near You
Our Clubs
PCYC Gymnastics clubs are affiliated with Gymnastics Australia and meet all safety and compliance standards set by the peak body.
With over 35 PCYCs offering gymnastics programs, and more on their way, there is a local gymnastics club close to you.


Gymnastics Coaching at PCYC
Our Coaching Team
PCYC's Coaching team is built around the core values of our organisation – Respect, Commitment, Resilience, Integrity and Citizenship. As a result of this safety is our number one priority. Our coaches are all accredited with National coaching qualifications, and are recognised professionals with the peak sporting body, Gymnastics Australia.

Our team's coaching experience covers the wide variety of classes; from Kindergym to Trampoline, Acrobatics to Parkour, with coaches to help your child achieve new skills – from beginners to advanced.

PCYC are always looking for enthusiastic coaches to join our team and provide positive experiences to young people. If you think you are up to the challenge, click the button below and fill out an application.

Gymnastics at PCYC is fully accredited with Gymnastics Australia. Child safety accredited through Bravehearts.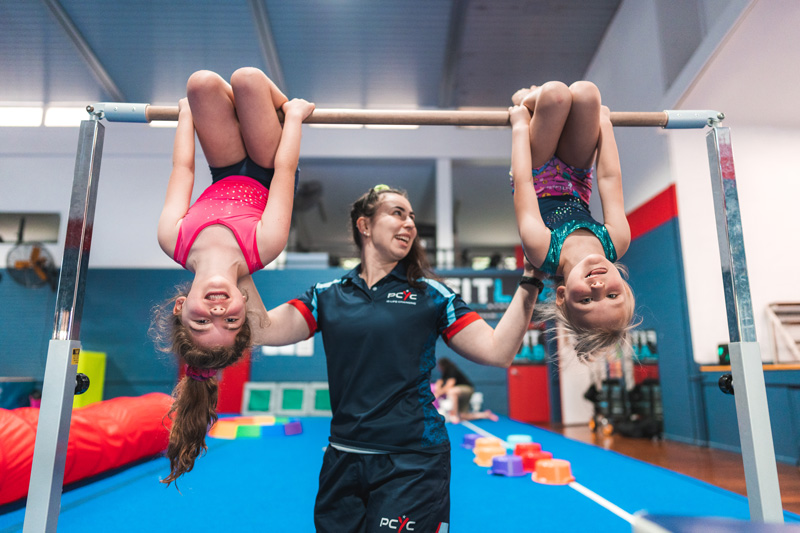 International Partnerships & Opportunities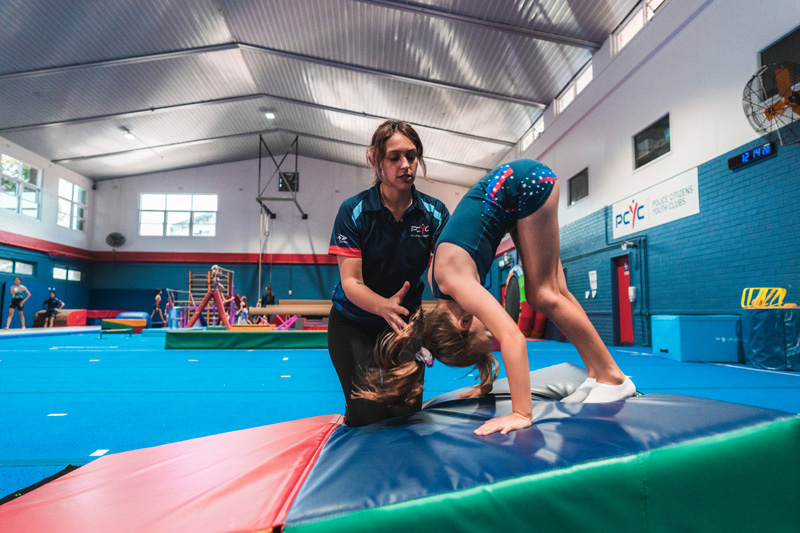 International Partnerships & Opportunities
PCYC has long standing partnerships with a number of gymnastics organisations globally, which present some amazing opportunities for young people in our clubs.

Our International Coach Exchange program, provides opportunities for young coaches around the globe to travel to Australia and work in our clubs on a 6-12 month program. This provides International coaching techniques for our team and gymnasts, as well as a sharing of cultures from across the globe.
Training Scholarships are also available for young coaches to travel and study abroad, increasing their technical knowledge, and building lifelong friendships worldwide.